Dining
Food in Chengdu belongs to the famous Sichuan Cuisine. Sichuan Cuisine is the legendary in China for
it's sophistication and diversity. It's characterized by hot and spicy. Sichuan Cuisine so carefully balances
color, smell, flavor and nutrition that its dishes are not only look pleasant and appearing but also nutritious.
Meanwhile, as one of the biggest cities in the western China, Chengdu also has food form all over the
world whatever Italian Food or Indian Food.

Featured Food
Ma Po Tofu (Bean curd with mince and chili oil)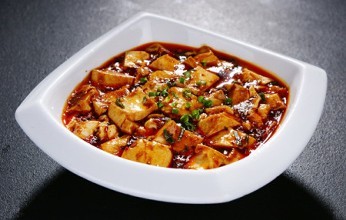 It is a combination of tofu (bean curd) set in a spicy chili- and bean-based sauce, typically a thin, oily, and
bright red suspension, and often cooked with minced meat, usually pork or beef.
Kung Pao Chicken (Spicy diced chicken with peanuts)

Gong Bao chicken is a classic dish in Sichuan cuisine. Allegedly, the dish is named after Ding Baozhen
(1820–1886), a late Qing Dynasty official. Born in Guizhou, Ding served as head of Shandong province
and later as governor of Sichuan province. His title was Gōng Bǎo (宮保), or palatial guardian.The name
"Kung Pao" chicken is derived from this title.

Hotpot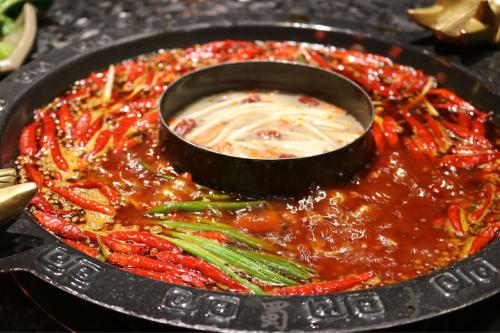 When people think of Chengdu, they immediately think of hotpot. Introduced from Chongqing, Chengdu hotpot has
its own style ranging from simple spicy to moderate, three or four kinds of spices, as well as fish head hotpot,
medical herbs hotpot, etc.

Famous Restaurants

Tanyutou Hotpot
Chinese Name:谭鱼头
Address:1/F, 49 4th Section, Renmin Nanlu, Chengdu 成都市人民南路四段49号1楼
Contact:028 8522 2266 (Tel)
Hours: 10:00 - 23:00
Price: 97 RMB per person
Website: http://www.tanyutou.com.cn/main.asp (Chinese)
Getting there: Take subway line 1 to Tongzilin Station
Description:
Founded in 1996 with well over 100 branches in 50 Chinese cities, Tanyutou specializes in a specific hot pot broth
made from boiled fish heads. Beloved nationally, many foreigners are turned off by the thin, greasy stock. Around
RMB70/person.

Vegetarian Lifestyle Restaurant

Chinese Name:枣子树素食馆
Address:4F, Bojincheng Shopping Plaza, 27 Qinglong Jie, Qingyang District, Chengdu
成都市青龙街27号铂金城购物广场4楼
Contact:028-86282848 (Tel)
Hours: 11:00 - 22:00
Price: 52RMB per person
Getting there: Take subway line 1 to Wenshuyuan Station
Description:
Good Chinese vegetarian food, which means there aren't as many raw, fresh ingredients as you might find in a good Western
no-meat eatery, but presents a range of reasonably satisfying options.

Tandoor Indian Restaurant
Chinese Name:天都里印度餐厅
Address:34, 4th Section, Renmin Nanlu, Chengdu 成都市人民南路四段34号
Contact:028-85551958, 85550917 (Tel)
Hours: 09:00 - 21:00
Price: 149 RMB per person
Getting there: Take subway line 1 to Nijiaqiao Station
Description:
Tandoor is undoubtedly the best Indian restaurant in town. Of course, they're the only Indian restauarant in town. But this
friendly eatery could easily trounce any competition on the strength of their manageable prices and delicious naan.