Dalian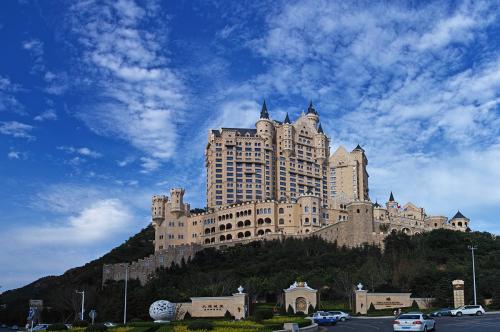 Geography
One of the most heavily developed industrial areas of China, Dalian municipal area today consists of Dalian proper and the smaller Lüshunkou (formerly Lüshun city, known in Western and Russian historic references as Port Arthur), about forty nautical miles (74 kilometres; 46 miles) farther along the Liaodong Peninsula. Historical references note that the Russian designed city of Dalniy (Alt. Dalney), on the south side of Dalian Bay was 40 kilometres (25 miles) from Port Arthur/Lüshun (known today as Lüshunkou or literally, Lüshun Port).
Dalian is located on Korea Bay north of the Yellow Sea and roughly in the middle of the Liaodong peninsula at its narrowest neck or isthmus. With a coastline of 1,906 km (1,184 mi), it governs the majority of the Liaodong Peninsula and about 260 surrounding islands and reefs. It is seated at south-south-west of the Yalu River, and its harbour entrance forms a sub-bay known as Dalian Bay.
Economy
The city has had a continuous annual double-digit percentage increase in GDP since 1992. In 2014, the city's GDP registered a 5.8% increase, reaching RMB 765.56 billion, while per capita GDP hit RMB 109,939. According to a nationwide appraisal by the National Bureau of Statistics, Dalian ranks eighth among Chinese cities in terms of overall strength. The city's main industries include machine manufacturing, petrochemicals and oil refining, and electronics.
Tourism
Dalian is a popular destination among domestic tourists and foreign visitors, especially from Japan, South Korea and Russia. Its mild climate and multiple beaches as well as its importance in the modern history of China have attracted tourists. Some of the most famous beaches are Jīnshítān Golden Coast (金石滩黄金海岸) beach, Fùjiāzhuāng (付家庄) beach, Bàngchuídǎo (棒棰岛) beach, Xīnghǎi Park (星海公园) beach, Xīnghǎi Bay (星海湾) beach, and Xiàjiāhézi (夏家河子) beach. In 2007, it was one of the three cities named "China's best tourist city", along with Hangzhou and Chengdu, recognized by the National Tourism Administration and the United Nations World Tourism Organization.