Shenyang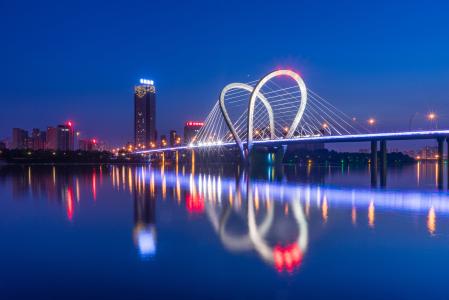 Geography and Climate

Shenyang is the capital of Liaoning province. It is one of the ten largest cities in the country and is the regional political, economical and cultural center as well as one of northern China's most important industrial bases. The city located in the middle area of Liaoning province with mainly plain terrain.

The city has a temperate continental climate with distinct seasons and monsoon effects. The annual average temperature is 6.2 to 9 centi-degrees and the mean precipitation of 711 mm.

History and Tourism

Shenyang is one of northern China's most culturally and historically renowned cities. It is known as the birth place of Qing Dynasty. In 1625, Nuerhachi, the first emperor in Qing Dynasty, built his imperial palace in Shenyang (Shengjing as was called). In 1636, Taichi Emperor changed the name of the empire and then began the Qing Dynasty. The emperor then moved his palace to Beijing and left the imperial palace and his father, Nuerhachi's Yongling Tomb in Shenyang. The palace and the tomb are all listed by UNESCO as World Heritage Sites. The city was also the home to the famous warlord Zhang Zuolin and his son Zhang Xueliang who ruled over the Northest during the 1920's.

Having successfully held the International Tourism Festival in 2008, Shenyang has been rewarded as a national level tourist destination. There are more than 180 travel agencies and around 114 star hotels in Shenyang, and the city attracts more than 50 million travelers every year.

Economy

Shenyang has always been an important industrial base in Northern China and was once known as one of the top3 industrial centers (the other two are Shanghai and Tianjin) after the five-year plans. The city's main industries include aerospace, machinery manufacturing, heavy equipment and defense. Following the changing in the country's economic situation, the heavy industry has declined gradually since 1980 and Shenyang has become a rust belt city. Thanks to the bureau's policy of "Revitalize Northeast China" campaign, Shenyang has found a new way to redeveloping its economy. The city has adjusted its industrial system by which it has possessed a more dynamic economy. Recently, software, automotive, and electronics manufacturing industries has attributed a large proportion to its GDP. Brilliance China Auto Co, for example, is a major Chinese automobile manufacturer and most of its production plants are located in Shenyang.

Education

The Northeastern University is the most famous one in Shenyang. It is a comprehensive university which offers a full range of undergraduate, graduate coursework and research programs, including PhD.